It's been almost 80 days since the community quarantine started last March 15. A lot of things changes to my life since the pandemic happened.
A lot of hotels in Manila and establishments are closed. I wish I could travel while having a hard time for the past few months. I got sick last February from the facial nerve pain or trigeminal neuralgia that makes my eating habits changed.
I've been a wanderer since I was young. Traveled a lot of places in Luzon with my family which makes me feel better. One thing that makes a hassle-free vacation is to stay in hotels that accessible to tourist destinations.
As a blogger for the past 9 years, I haven't yet to do my travel goals. Since I started doing consultancy for social media and taking my role as a freelance community manager for the past 4 years, I did not take a break from work.
Though I'd visited Cebu twice (2016 and 2017) and a day to roam around Bohol from my previous duty for a band, and Davao City for Holy Week visit when I was in high school.
I was thinking of the best places in the Philippines that I can explore after the pandemic.
Why did I choose these places among other tourist spots in the country? They're one of the things that I want to visit when I reach 40 this year. I was trying to loosen up a bit for the past few months despite the challenges that I've been through now.
Here are some wonderful places in the country that were included in my wishlist.
Fascinated with the beach and nature, I want to have an adventure at Laswitan Lagoon located in Surigao del Sur and take a plunge in Magpupungko Rock Pools.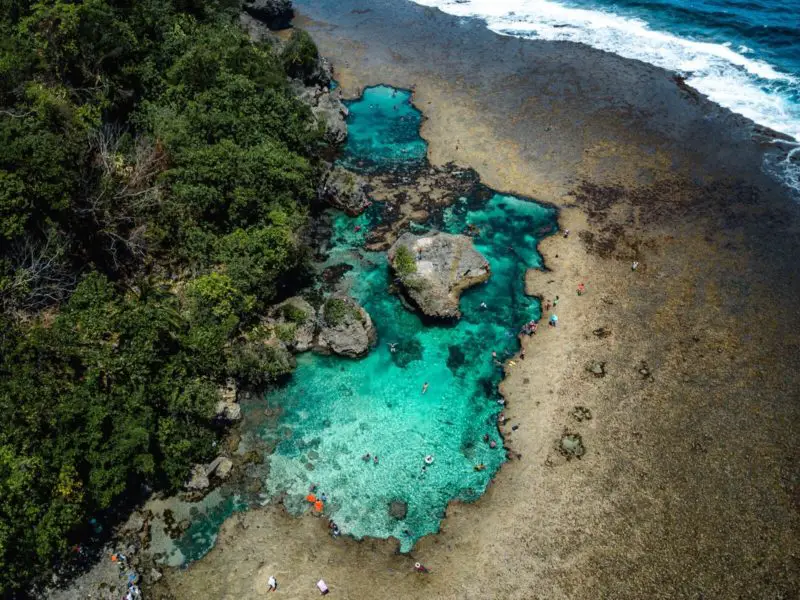 Palawan has been at the top of my bucket list especially the scenic view of Coron. Blown away with its beauty, I would love to take a walk in the white sand near the shore. It will be my way to seize the moment away from my bustling life in Manila. I would rather stay in a stunning view of the sea for a week to rejuvenate my mind and soul.
I was in awe whenever I see photos online taken in Batanes. Known as the Home of the Winds, I would love to take to some places around Basco using a bicycle, basked in the sun, stargazing at Basco Lighthouse, and learn more about the culture of Ivatans.
Adding Bacolod to my list, I was inspired by the Bacolodnons' advocacy to the art community. I love to take photos of churches and tourist spots.
One of the places that a must-visit is The Ruins. It's a heritage site located in Talisay, Negros Occidental. Some of my friends said that it's the best place to stargazing at night and wander around the mansion. I love to do museum-hopping and fascinated with the arts. Museums like Balay Negrense and Bernardino Jalandoni Museum, it's one way to escape from a typical vacation.
As a foodie, I always loved how Iloilo City sets the bar in a wide array of food to choose from. There's a lot of eateries and enticing food spots that I would love to explore. A must-try is Roberto's, known for their jumbo siopao. I heard that Netong's Original Special La Paz Batchoy is one of the best places to eat before leaving the city. As the Ilonggos say, "Namit gid!". I can't live without food.
What else I will do after this? Aside from museum hopping, food adventures, nature walking, and capturing the best moments outside Manila, though I had a quick visit of Bohol last year (imagine I stayed more than a day just to do road manager duties.), some of the locals there recommended me to visit Panglao. I want to have to sunbathe in Alona Beach and check out the Hinagdanan Cave to mesmerize myself about nature.
I want to escape from reality. I want to relax more than ever. I want to take photos that show my feelings. I want to have a food trip without minding the strict diet that my doctor advised me. I just want to travel after this pandemic.
I realized that it's not the experience when traveling alone…it's my way to look back from the things that I did in my life. It's time to unwind and not minding the things at work. Enjoy the places that I've been to as much as I can do.
Mind you, the restriction of traveling at this time makes me sad yet frustration over the plans that I was supposed to do this year.
I just want to have a "me time" every weekend. Try new things and on a lookout for the best place to chill.
Breathtaking places will make me healed physically, mentally, and emotionally.
#RedDoorzPH #LetsTravelAgainSoon