As more businesses embrace work from home setups and students are now into online classes, the threat of cyber attacks increases as well. Studies show that home networks and personal computers are roughly 3.5 times more likely to receive malware attacks compared to offices with enterprise-grade security.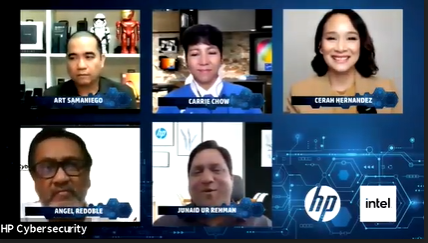 With this, technology leaders HP and Intel held a panel discussion called "Cyber Lockdown" recently to tackle how we can protect our data and devices from cyber attacks amid the pandemic.
The panel featured IT experts HP Senior Security Advisor Junaid UR Rehman, Intel Asia Regional Account Manager Carrie Chow, ePLDT Chief Information Security Officer Angel Redoble, and Manila Bulletin Technology Editor Art Samaniego.
Anti-virus no longer enough
On the topic of purchasing anti-virus software, all panelists agreed that while it was the best solution more than a decade ago, it's simply inadequate today though still necessary. "The bad guys are continuously evolving," said Samaniego, adding that 350,000 new malwares are created daily and cannot easily be detected.
According to the panel, anti-virus softwares mostly protect against already-existing and known threats. And while they are constantly updated to detect and combat new threats, updates usually take several weeks to reach consumers—by which time, new malware may have already infiltrated devices.
But that's not to say users should not have it. According to HP's Rehman, it's an important first step in a multi-layered approach to achieve "cyber-resiliency". "Start with the basics: install anti-malware and anti-virus software, then train and educate employees on cyber security," he explained.
Education key to cyber security
Asked if cybersecurity is important to the education sector especially now that most are learning from home, ePLDT's Redoble gave a two-pronged answer. "Cybersecurity is important because with students, we have the potential to train and hone cybersecurity experts," he said, noting that there is a lack of cyber security experts in the country.
He also emphasized the importance of cyber security in online class setups as malware could prevent teachers from facilitating classes and students from logging in to their online classes.
Hiring cyber security experts a must for businesses
This cyber security education isn't limited to students, however. During the forum, the panel revealed that most businesses in the Philippines are currently very prone to cyber attacks and urged companies to emphasize usage policies and train and educate their employees on cyber security.
For PLDT, according to Redoble, phishing attacks are regularly stimulated internally. And it has been proven effective as more and more employees have been reporting possible threats before they even happen, as compared to the past when employees did not mind it as much.
Moreover, the panelists also emphasized the importance of investing in cyber security for businesses and hiring experts who can protect company assets.
"You need to have someone who can deal with this. For the longest time, businesses in the Philippines have been trying to do everything by themselves…and it has never been successful," he said.
He also warned small companies that they are easy targets as compared to large corporations because hackers know they don't invest in cyber security.
Less worry with HP and Intel's innovative hardware security
But even with all the cyber threats, the information gap Filipinos need to fill in, not to mention the amount of money that businesses need to shell out, Intel Asia's Chow and Rehman reminded consumers they need not worry too much because companies like HP and Intel have long-been collaborating to produce innovative security solutions pre-installed in their products.
"For HP, we have been working with partners like Intel to make hardware more intelligent. We are also building smart hardware and software to recover from attacks, which was previously unheard of," said Rehman.
Moreover, modern HP PCs and laptops are equipped with "HP Security Solutions" like HP SureSense, which helps prevent never-before-seen infections before they even happen, and HP SureClick, which protects PCs and laptops from malware that lurks on malicious websites and hides in shared attachments and files.
With these latest security solutions from global technology leaders HP and Intel, Filipinos can rest a bit easier knowing that they have an Artificially Intelligent Security "assistant" protecting them as they go about their daily routines.
According to Christian Edmond Reyes, managing director of HP Enterprise, the rate of cyberattacks in the past two years is even bigger compared to the rate these past ten years.  And this rate may further accelerate as many people work and study at home amid the pandemic. Thus, choosing the right PC for work-from-home or learn-from-home set-up becomes a security decision also.