Leading Philippine digital technology companies Globe and UnionBank recently inked an agreement to provide mutual support on investigations involving online banking fraud.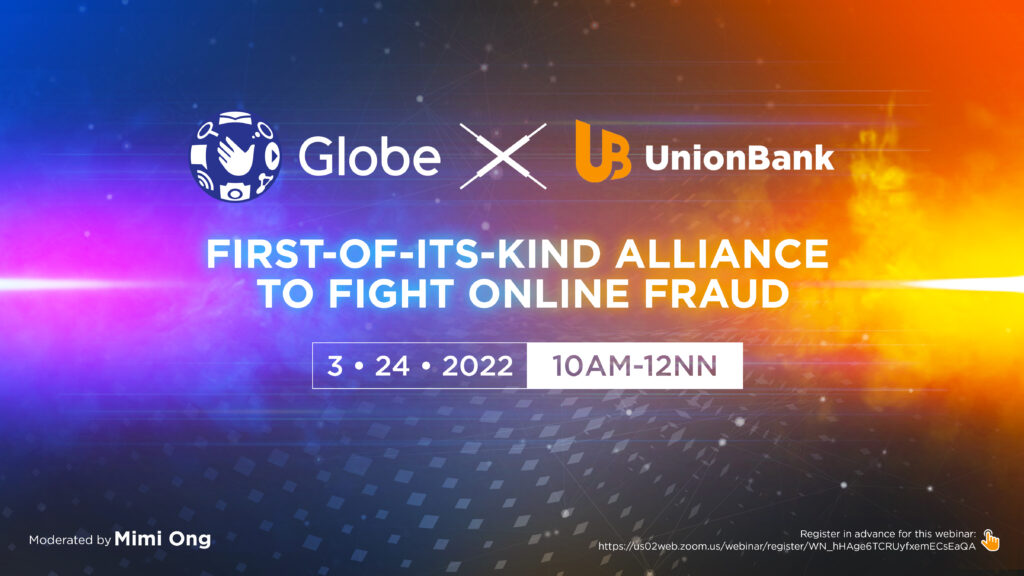 The alliance, the first of its kind in the country today, covers information sharing among others.
Under the agreement signed on March 24, Globe will provide UnionBank information about mobile numbers potentially used by fraudsters to help in online banking fraud investigations. This will help Globe detect illicit activity within its network. UnionBank for its part, will likewise trigger and share relevant information necessary to pursue investigations in accordance with the Data Privacy Act and the aforementioned Data Sharing Agreement.
The pact came as online fraud has become a growing threat, with the rise in digital transactions especially during the pandemic.
"Currently, when it comes to gathering information in relation to fraud investigations, banks and telcos have to go through a tedious process of court orders first. This partnership will make that process a lot faster, and is a step forward in working with the BSP to ensure a safe and secure digital economy for all," said Joey Rufo, UnionBank Chief Information Security Officer.
"Also, this partnership is the first of its kind in the Philippines between a telco and a bank, which makes it truly a game-changer," he said.
Globe's Chief Information Security Officer Anton Bonifacio said the agreement takes the existing collaboration between Globe and the banks a step further. At present, banks report phishing campaigns to Globe, which Globe investigates and blocks accordingly. Globe has also implemented free whitelisting of official aggregators of the banks to prevent spoofing of their official SMS sender names. This sets an example on how private sector initiatives for cooperation could reinforce efforts against cybercrime.
Details on how this initiative was pushed forward were also shared by Globe's Chief Privacy Officer, Atty. Irish Salandanan-Almeida, "Our agreement with UnionBank is an important step in our shared fight against online banking fraud. We hope that strengthening the bank's capacity to investigate these cases would lead to the prosecution of fraudsters. This ultimately leads to better protection of our customers."
Privacy Commissioner Atty. John Henry Naga congratulated the two companies for the groundbreaking partnership as he talked about its importance in the current digital landscape. "I would like to commend Globe and UnionBank in executing this agreement despite it not being required under the Data Privacy Act. This goes to show our stakeholders' continued efforts in promoting data privacy and protection within their organizations."
In its Q2 2021 Financial Crime Report, Feedzai, a US-based company specializing in artificial intelligence-driven financial crime solutions, bared that 93 percent of banking fraud committed within the period was online.
Among the many ways online banking fraud is committed is through using mobile numbers in a racket called "SMiShing." In this attack vector done via SMS, a perpetrator uses an anonymous phone number claiming they are a representative of a reputable company to extract sensitive personal information from unwitting victims, such as one-time passwords (OTPs) and credit card numbers. This in turn allows them to commit fraudulent financial transactions, usually at the expense of the victims.
UnionBank is confident that its partnership with Globe will help facilitate faster data gathering in fraud investigations linked to the use of mobile numbers, as the agreement does away with the need for court orders for such information exchange.
The bank also hopes that the joint effort will help boost consumer confidence and trust in financial institutions, while making it harder for malicious entities to commit online banking fraud.
For its part, Globe has for long been campaigning for a safer cyberspace through its #MakeITSafePH and Alagang Globe programs, which seek to protect customers and businesses from illicit online activity. Globe Business, meanwhile, provides large enterprises and government agencies with cybersecurity tools and solutions, and easy-to-digest information on threats they may face to promote vigilance against cybercriminals.
UnionBank has always advised customers to approach law enforcement agencies such as the NBI and PNP, who can help go after cybercriminals. For more information about how one can keep #CyberSure, please visit unionbankph.com and look for CyberSure.