Did you know that the Philippines is known for world-class tourist destinations and heritage sites?
As travel restrictions in the country start to ease, it's the perfect time to have a vacation and explore new places.
Whenever you're traveling, it won't be complete without capturing moments. Master every travel scenario using new Xiaomi 12 Series, which built to deliver clear, crisp photographs in any situation.
If you have any pegs when travelling, you can utilize the Xiaomi 12 Series' features at these key destinations:
Magical Siquijor
https://www.youtube.com/watch?v=58tggYAo_Xg
Siquijor is shrouded in both mystery and magic as it's known as an island inhabited by "healers." It has numerous pristine beaches with snorkeling sites, picturesque waterfalls, and historic landmarks that will inspire travelers to live in the now and capture every inch of their beauty using the Xiaomi 12 camera.
The smartphone boasts a pro-grade 50MP main camera with ultra-wide and tele macro lenses. It also includes a triple 50MP camera array with telephoto and ultra-wide lenses. As actress Rhian Ramos notes, these features will allow one to "see life in a more vivid view."
Travelers can effortlessly shoot sceneries and portraits in Siquijor through Xiaomi 12's Snapdragon 8 Gen 1 Meanwhile, the advanced 4nm processor with 5G allows users to share their moments with others on social media in no time.
Captivating Camarines Norte
https://www.youtube.com/watch?v=tA62ntm-n5s
Camarines Norte is not only a surfing spot, it also provides a food adventure for those who want to try authentic Bicolano cuisine during one's trip. Trying out something new is always exciting, which is why, as Chef Jose Sarasola puts it, it's important to be open to try new dishes to increase one's appreciation for diverse experiences.
Whether one is sharing a plate of spicy Bicol Express or surfing the waves of Bagasbas Beach, adventure seekers can document everything with the help of Xiaomi 12's ProFocus technology. This offers subject learning and tracking algorithms that anticipate movement with Motion Tracking Focus, Motion Capture, and Eye Tracking Focus features. The results are clear and seamless shots every time. And with the Xiaomi 12's fast-charging 4500mAh battery with 50W wireless turbo charging, they'll have enough juice to last a whole day of activities.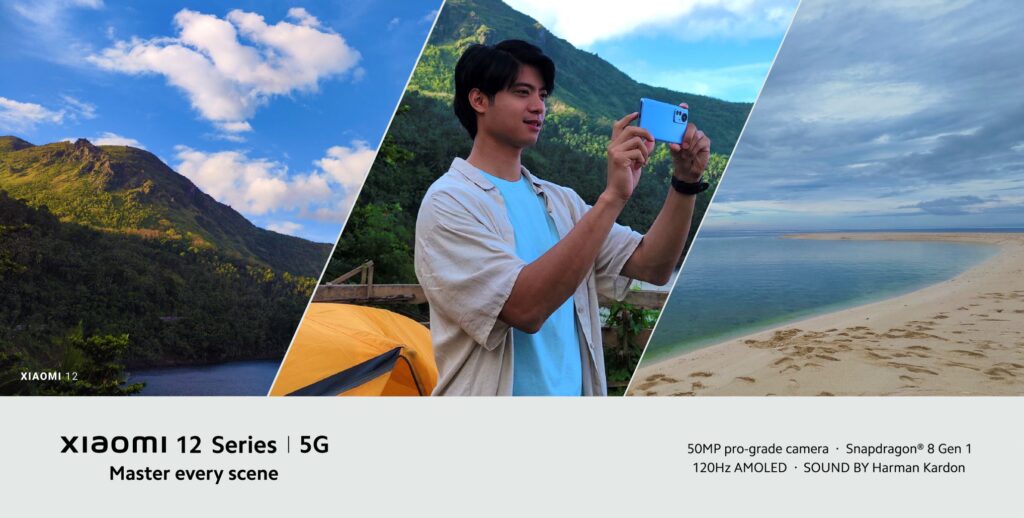 Epic Camiguin
https://www.youtube.com/watch?v=VX9TGl3CvA8&t=7s
Known as the "Island Born of Fire," Camiguin island has a remarkable shape due to unexpected volcanic eruptions. Apart from its scenic beaches, travelers can also hike up the island's highest peak, Mount Mambajao (1,713 above sea level) for a unique experience.
Hiking requires getting up at the crack of dawn. This is the ideal time to experiment with the Xiaomi 12's Ultra-Night Video and Multi-Scene Night Views to capture subjects in low light. Portrait Night Mode and other night mode capabilities on wide angle and ultra-wide angle cameras automatically brighten up videos and photos to make them more vivid.
Travelers can also enjoy music from the Quad Speakers feature SOUND by Harman Kardon technology while camping, or enjoying a bonfire with friends.