Canon Philippines recently launched their newest addition to their full frame mirrorless cameras EOS R50 and R8.
With EOS R50, the new compact, lightweight APS-C mirrorless camera. The entry-level camera is packed with many fun, creative tools, and automated features, allowing users to create high-quality vlogs and images easily with minimal camera operation.
"Putting video content creation as one of our focus areas this year, we are excited to officially introduce in the local market our newest addition to our growing APS-C mirrorless camera with RF-mount – the new EOS R50 which is perfect for vlogging enthusiasts, content creators who are just starting their journey and various visual storytellers who look for new upgrades," said Benny Yu, Head and Director of Consumer Imaging and Information (CII) Division, Canon Marketing (Philippines).
"With the exciting new features of the EOS R50, we are confident that this will again be a crowd favorite amongst everyday vloggers and new content creators," Yu concluded.
High-quality Video Right Out of The Box
The quality of a video is largely dependent on the quality of the footage. With EOS R50, you can be assured of the high quality of the footage.
24.2MP APS-C Format Image Sensor
The EOS R50's APS-C format image sensor is three times larger than the 1-inch sensor on the latest smartphones. This means sharper, more detailed images and videos, and less noise (graininess) even in low light. Users can also look forward to beautiful, natural-looking bokeh (shallow focus) effects.
High-quality Video: First Entry EOS-series APS-C Mirrorless Camera to Produce 6K-Oversampled Cropless 4K
With 24.2 megapixels, the EOS R50 is also capable of producing high-quality cropless 4K 30p video oversampled from 6K worth of data. Oversampling means more information to reduce artefacts and other issues, so despite your vlogging experience and skill, the image quality will look pristine and professional.
Designed for Intuitive Vlogging
With ample modes and features that simplify shooting, the EOS R50 is designed for vloggers who want the image quality of a dedicated camera without the learning curve that usually comes with having to operate one.
Lightweight at only about 375g, it is around the same size as the EOS M50 Mark II. Perfect for vlogging on the go!
Intelligent Focus Switching during Close-up Demos
The Dual Pixel CMOS AF II system, which detects and tracks people, animals (dogs, cats, and birds) and vehicles (motorsports cars and motorcycles) based on their characteristics just got even smarter. For close-up demos, the Movie for Close-up Demo mode quickly and automatically switches focus to the subject closest to the camera. You can showcase your new gadget or online shopping loot in one smooth take, with the focus on where you want it to be.
Support for focus breathing ensures that there are no distracting changes in angle of view that tend to occur during focus transitions when vlogging.
Image Stabilization Optimized for Handheld Vlogging
Get seamless, steady footage even when shooting handheld: The EOS R50 comes with not just one, but two different Movie IS (Image Stabilizer) levels ('Enhanced' and 'On') that digitally perform 5-axis camera shake correction, enhanced when combined with an RF lens with in-lens IS.
When the monitor is in "selfie" mode, the default "Movie IS: Enhanced" mode optimizes image stabilization for handheld wide-angle shooting, correcting the unwanted motion that tends to become more obvious at the edges of wide-angle images. You can switch between two levels by simply tapping the "Wide-angle" button, to avoid excessive close-ups.
Auto Leveling Mode 
For scenes and shooting angles where it is hard to keep the camera level, the auto level mode automatically corrects horizontal tilt. This would save time from manual correction in another app.
Share Your Content Quickly: High-quality Livestreams with just One USB Cable
All you need to livestream high-quality footage and audio from your EOS R50 is one USB-C connection to your computer. It's plug-and-play with no drivers required.
Straight from Camera to Phone
The Camera Connect smartphone app, which is fuss-free to set up, lets you easily transfer videos and JPEG photos from your camera to a smartphone either through a wireless Wi-Fi or wired USB-C connection. As the camera supports transcoding, which makes 4K and Full HD video files lighter, even high-quality video files can be transferred and uploaded to social media smoothly!
Get Great Photos Easily
A host of new intelligent creative features make it even easier to make the most of the camera's imaging capabilities, even if you are not familiar with technical photography terms and complicated post-processing. Some notable new functions are:
Advanced A+: Automatically captures and blends exposure-bracketed images for better night and backlit portraits, and focus-bracketed images for images that are in focus from front to back.
Creative Bracket: Automatically generates multiple versions of a shot taken by the user with different brightness and color tone settings. The settings of the autogenerated shots are shown so that users can learn.
Subject blur guide: Available in the Panning SCN mode. Helps the user practice panning and improves the success rate of panning shots.
Kit Options
The EOS R50 is available in black and white, with two kit options.
With the RF-S18-45mm f/4.5-6.3 IS STM
With the RF-S18-45mm f/4.5-6.3 IS STM and RF-S55-210mm f/5-7.1 IS STM
RF-S55-210mm f/5-7.1 IS STM: Extend your Reach
The RF-S55-210mm f/5-7.1 IS STM, a compact, lightweight, and affordable telephoto zoom lens, is the latest addition to the RF-S lineup. Providing a full-frame equivalent angle of view of 88 to 336mm on an APS-C image sensor, the lens is set to expand users' creative horizons, allowing them to capture images that are difficult to get with a standard kit lens or smartphone. These include:
Sharp, high-quality closeups of subjects that are further away
More pronounced shallow focus effects
Images with compressed perspectives
The lens also has excellent close-up shooting capabilities: its 0.28x maximum magnification at the 210mm end (more than the EF-M55-200mm f/4.5-6.3 IS STM) enables semi-macro photography at a relatively short closest focusing distance of 0.73m.
Besides having a native 4.5 stops of image stabilization, RF-S55-210mm f/5-7.1 IS STM can provide up to 7.0 stops' image stabilization through Coordinated Control IS when used with EOS R system cameras equipped with In-Body IS.
EOS R50 Local Pricing and Availability
Time to elevate your social media content and videos with the new Canon EOS R50 which is locally priced at Php 54,998 for the KIT variation (with RF-S18-45STM) and BODY ONLY variation at Php 47,998 and can be purchased via pre-order in all Canon Image Squares, Concept Stores, Canon Online Flagship Stores and select authorized partner retailers nationwide. The EOS R50 customers can get a FREE 64GB SD Card. Part of the perks of having bought a Canon EOS R50 would be access to discounted rates for the Basic Videography Workshop! The EOS R50 will be available starting April 2023.
EOS R50 specs
Camera Model
EOS R50
Image Processor
DIGIC X
Image Sensor Camera Effective Pixels
Effective sensor size: APS-C CMOS

Camera effective pixels: Max approx. 24.2 megapixels

Metering System
384 zone (24 × 16) metering using image sensor output signals
Autofocus Method
Spot AF, 1-point AF, Expand AF area (above/below/left/right or around), Flexible Zone AF 1 / 2 / 3, Whole area AF
Subject to Detect
Auto, People, Animals (dogs / cats / birds), Vehicles (motorsports cars or motorsports motorcycles)
Image Stabilizer (IS) System
Movie Digital IS
Effective ISO
Stills: 100–32,000 (H:51,200)

Movie: 100–12,800 (H:25,600)

HDR PQ movies: ISO 100–12,800

Continuous Shooting
Electronic 1st curtain: 12 fps

Electronic shutter: 15 fps

Max Shutter Speed
1/8,000 sec. (Electronic Shutter)
Viewfinder
0.39-inch OLED, approx. 2.36million dots

59.94/119.88 fps Refresh Rate

Movie
4K UHD (3840 x 2160)

29.97 fps / 23.98 fps (NTSC)

25.00 fps (PAL)

Full HD (1920 x 1080)

119.88 fps / 59.94 fps / 29.97 fps / 23.98 fps (NTSC)

100.00 fps / 50.00 fps / 25.00 fps (PAL)

Maximum movie recording time
1 hr. 00 min. 00 sec. (Normal movie)

15 min. 00sec. (High Frame Rate movie)

Recording Media
Single Card Slot (SD, SDHC*, SDXC*)

*UHS-I cards compatible

Power Supply
LP-E17
USB charging / Optional Power
Supports charging via USB Power Adapter PD-E1 /

AC Power (AC Adapter AC-E6N and DC Coupler DR-E18)

Size
Approx. 116.3 (W) x 85.5 (H) x 68.8 (D) mm
Weight
Approx. 375 g (Black) / 376 g (White) (incl. battery and memory card)
Network
Wi-Fi / Bluetooth Low Energy Technology
Lens Model
RF-S55-210mm f/5-7.1 IS STM
Focal Length
55-210mm
Maximum Aperture
f/5-7.1
Minimum Focusing Distance
0.73m (f=210mm),

1.0m (f=55mm)

Maximum Magnification
0.28x (f=210mm),

0.05x (f=55mm)

Lens Construction
11 elements in 8 groups
Filter Size Diameter
Ø55mm
Aperture Blades
7
IS (CIPA Standard Correction Effect)
Yes (up to 4.5 stops)
Coordinated Control IS (With IBIS equipped Camera)
Yes (up to 7.0 stops)
Maximum Diameter and length
approx. 69.0mm x 92.9mm (wide)

approx. 69.0mm x 135.0mm (tele)

Weight
Approx. 270g
Meanwhile, R8 is another new entry full-frame camera which combines shooting features of the EOS R6 Mark II such as Canon Log 3 and up to 40 fps continuous shooting with the portability of the EOS RP.
"Canon understands the importance of producing and creating high-quality videos that meet the constantly evolving demands of serious video professionals. The new EOS R8 offers advanced hybrid video shooters with top-notch features like 4K quality videos at 60p and superior imaging quality of 24.2-megapixel full-frame CMOS sensor that will allow video professionals and serious content creators to elevate their creative storytelling to the next level," said Benny Yu, Head and Director of Consumer Imaging and Information (CII) Division, Canon Marketing (Philippines).
"Without a doubt, the EOS R8 offers real value-for-money for video professionals and advanced content creators who want to get more serious about video and require a full-frame camera capable of recording source footage that fits into more advanced production workflows," Yu concluded.
Stay Agile with Canon's Smallest and Lightest EOS Full-frame Mirrorless Camera
20g lighter than the EOS RP at approximately 461g (with battery pack and SD card), the compact and lightweight EOS R8 keeps users agile, giving them an edge when it comes to creative camera angles and transitions.
Camera shake would no longer pose a problem when shooting handheld videos as the EOS R8 is equipped with Movie Digital IS, which digitally performs tilt correction as well as 5-axis image stabilization during video shooting. Hence stable handheld videos can be ensured even when using lenses with no optical image stabilization (Optical IS). When combined with a lens that has Optical IS, the two systems perform coordinated control for enhanced image stabilization results.
A Variety of Recording Options to Meet Different Production Needs
From run-and-gun event coverage to documentaries and short films that require more post-production work, the EOS R8 is well-equipped to tackle the different requirements and workflows to produce stunning video.
High-quality Source Footage from 6K Oversampling—up to 4K 60p
The quality of a video is largely dependent on the quality of the source footage. The EOS R8's newly developed 24.2-megapixel CMOS image sensor enables 6K data to be obtained from its entire width, producing high-quality cropless oversampled 4K UHD footage at up to 60p.
For productions where you need to leave the camera rolling, the EOS R8 has heat suppression measures which allow you to shoot up to 4K 30p with no recording time restriction, and up to 30 minutes at 4K 60p.
Dramatic 6x Slow Motion Video with Full HD 180p
For more dramatic scenes, shooting in Full HD at as high as 180p will produce 30p output with action slowed down to 1/6 the speed. Rolling shutter distortion is reduced to almost half that on the EOS RP when shooting at 4K 30p/25p.
HDR PQ Video and Canon Log 3: High Dynamic Range Options to Suit Your Post-Production Workflow
Besides normal 8-bit recording, the EOS R8 offers two options for recording 10-bit 4:2:2 high dynamic range video. HDR PQ provides amazing dynamic range and beautiful colors straight out of camera when viewed on a HDR display. Meanwhile, Canon Log 3 offers the same level of information that is not "baked-in", offering more flexibility for heavier post-processing workflows that involve color grading.
Consistent and Seamless Focus
Focus is crucial in both photography and videography and is near impossible to correct in post-production. The EOS R8 nails it effortlessly during both still and video shooting with the same Dual Pixel CMOS AF II technology as the EOS R6 Mark II.
Acquire Focus in As Fast As 0.03 seconds
Experience fast, accurate focusing: the EOS iTR AF X system not only detects and tracks people, animals, and vehicles by deep learning, it also identifies other subjects and "locks" onto them using characteristics like shape, color, and brightness. This helps the camera to acquire focus in as fast as 0.03 seconds, and track subjects tenaciously over 100% x 100% (horizontal x vertical) of the image frame. Hence, this is ideal for capturing birds, wildlife, and action.
Works Even In Low Light
The low light limits of up to EV-6.5 for stills and EV-42 for video mean that the AF operates even in dark conditions. This works with the camera's high native ISO speed ranges of up to ISO 102,400 (still shooting) and ISO 25,600 (video shooting) to enhance low light usability.
Professional Cinema Camera Features
These features in the EOS R8 will help to elevate your video creations:
Focus breathing correction:reduces visible fluctuations in the angle of view during focusing.
False colours and zebras: advanced visual aids for exposure adjustment and setting.
Aspect marker display: for easier framing of video to fit various social media dimensions.
UVC (USB Video Class)/UAC (USB Audio Class) support: Plug-and-play direct transmission of audio and Full HD video to a computer with just a USB connection; ideal for livestreaming.
It also features the Multi-function Shoe, a digital interface that enables a cordless digital setup with compatible accessories such as external microphones.
Two New Lenses: RF24-50mm f/4.5-6.3 IS STM and RF-S55-210mm f/5-7.1 IS STM
In addition to the EOS R8, Canon also announced two new additions to the RF lens lineup, both of which offer up to 4.5 stops' equivalent Optical IS and support for focus breathing correction.
RF24-50mm f/4.5-6.3 IS STM: The Smallest, Lightest RF-mount Zoom Lens for Full-frame Camera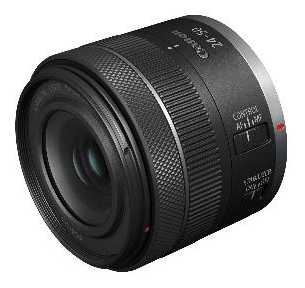 Weighing approximately 210g and measuring 5.8cm when retracted, the RF24-50mm f/4.5-6.3 IS STM complements the compact EOS R8, to form a 671g combination that is lighter than the EOS R5 body alone! It covers a wide-angle to standard view on a full-frame camera, offering compositional flexibility that sets it apart from similarly sized prime lenses.
Equipped with 4.5 stops' Optical IS, the lens will empower users to explore new angles. It also supports enhanced stabilization through Coordinated Control IS with cameras that feature Movie Digital IS and In-Body IS: for the latter, up to 7 stops' IS is possible.
RF-S55-210mm f/5-7.1 IS STM: An Ultra-Portable Telephoto Zoom Lens for APS-C EOS R camera body
APS-C EOS R camera users who want a compact, lightweight telephoto lens to match their camera bodies now have the RF-S55-210mm f/5-7.1 IS STM, which weighs approximately 270g.  The new lens provides a full-frame equivalent angle of view of approximately 88 to 336mm, with semi macro capabilities (up to 0.28x magnification) and close-up shooting (closest focusing distance of 0.73m) at the tele end. The use of two UD lenses and two optically placed aspherical lenses correct chromatic aberrations, delivering high-resolution and sharpness with excellent color throughout the entire zoom range.
EOS R8 Local Pricing and Availability
Level-up your video content and vlogging with the new Canon EOS R8 which is locally priced at Php 122,998 for the KIT variation (with RF24-50mm f/4.5-6.3 IS STM) and BODY ONLY variation at Php 107,998 and can be purchased in all Canon Image Squares, Concept Stores, Canon Online Flagship Stores and select authorized partner retailers nationwide.
The EOS R8 customers can get a FREE 128GB SD Card and a free Lens Loan Voucher worth P5,000! Part of the perks of having bought a Canon EOS R8 would be an access to a discounted rates for the Basic Videography Workshop! The EOS R8 will be available starting Mid-April of 2023.
Follow Canon Philippines on Facebook, Instagram and YouTube to stay updated on all the latest news and announcements this year.
EOS R8 specs
Camera Model
EOS R8
Image Processor
DIGIC X
Image Sensor Camera Effective Pixels
Effective sensor size: Full-frame CMOS

Camera effective pixels: Max approx. 24.2 megapixels

Metering System
384 zone (24 × 16) metering using image sensor output signals
Autofocus Method
Spot AF, 1-point AF, Expand AF area (above/below/left/right or around), Flexible Zone AF 1 / 2 / 3, Whole area AF
Subject to Detect
Auto, People, Animals (dogs / cats / birds / horses), Vehicles (motorsports cars or motorsports motorcycles / aircraft / trains)
Image Stabilizer (IS) System
Movie Digital IS
Effective ISO
Stills: 100–102,400 (L:50 / H:204,800)

Movie: 100–25,600 (H:102,400)

Canon Log movies: ISO 800–25,600 (L:100-640, H:32,000 – 102,400)

HDR PQ movies: ISO 100–25,600*

*HDR mode [Moving sub] requires min speed of ISO 800

Continuous Shooting
Electronic 1st curtain: Up to 6 fps

Electronic shutter: Up to 40 fps

Max Shutter Speed
1/16,000 sec. (Electronic Shutter)
Viewfinder
0.39-inch OLED, approx. 2.36million dots

59.94/119.88 fps Refresh Rate

Movie
4K UHD / 4K UHD Crop (3840 x 2160)

59.94 fps / 29.97 fps / 23.98 fps (NTSC)

50.00 fps / 25.00 fps (PAL)

Full HD (1920 x 1080)

179.82 fps / 119.88 fps / 59.94 fps / 29.97 fps / 23.98 fps (NTSC)

150.00 fps / 100.00 fps / 50.00 fps / 25.00 fps (PAL)

Maximum movie recording time
2 hr. 00 min. 00 sec. (Normal movie)

20 min. 00sec. (High Frame Rate movie)

Recording Media
Single Card Slot (SD, SDHC*, SDXC*)

*UHS-II cards compatible

Power Supply
LP-E17
USB charging / Optional Power
Supports charging via USB Power Adapter PD-E1 /

AC Power (AC Adapter AC-E6N and DC Coupler DR-E18)

Size
Approx. 132.5 (W) × 86.1 (H) × 70 (D) mm
Weight
Approx. 461 g (incl. battery and memory card)
Network
Wi-Fi / Bluetooth Low Energy Technology
Lens Model
RF24-50mm f/4.5-6.3 IS STM
RF-S55-210mm f/5-7.1 IS STM
Focal Length
24-50mm
55-210mm
Maximum Aperture
f/4.5-6.3
f/5-7.1
Minimum Focusing Distance
0.3m (f=24mm),

0.35m (f=50mm)

0.73m (f=210mm),

1.0m (f=55mm)

Maximum Magnification
0.11x (f=24mm),

0.19x (f=55mm)

0.28x (f=210mm),

0.05x (f=55mm)

Lens Construction
8 elements in 8 groups
11 elements in 8 groups
Filter Size Diameter
Ø58mm
Ø55mm
Aperture Blades
7
7
IS (CIPA Standard Correction Effect)
Yes (up to 4.5 stops)
Yes (up to 4.5 stops)
Coordinated Control IS (With IBIS equipped Camera)
Yes (up to 7.0 stops)
Yes (up to 7.0 stops)
Maximum Diameter and length
approx. 69.6mm × 58.0mm (retracted)

approx. 69.6mm × 87.4 mm (wide)

approx. 69.0mm x 92.9mm (wide)

approx. 69.0mm x 135.0mm (tele)

Weight
Approx. 210g
Approx. 270g