Staying true to its commitment to bring innovative and high-performing smartphones to emerging markets, and providing support to Filipinos, one community at a time, premium smartphone and AIoT brand, TECNO Mobile, recently concluded its first couple of CSR activities in the Philippines for 2022. These events are part of TECNO's ongoing CSR program, which kicked off in 2021 with the City of Manila, the Ina ng Lupang Pangako Parish in Payatas, and the scholars of Project Malasakit as its beneficiaries.
The project is in line with the launch campaign of POVA Neo, TECNO Mobile's latest smartphone offering, which celebrates everyday heroes who power on with their day-to-day tasks in order to serve the community. For this year's CSR activities, TECNO Mobile partnered with Grab PH, plus a few of the country's up and coming content creators, to reach out to local communities once again, and inspire people and make a difference. Through this initiative the brand also hoped to motivate more people to participate in community outreach programs, and make them see that it isn't about the size of the donation, but the sincerity to help others.
TECNO Mobile Gives Back to Grab PH Riders and Drivers
Grab PH riders and drivers have been lauded as true heroes of the pandemic over the last two years, helping make day-to-day life easier for thousands of Filipinos by making things accessible, even from home. These drivers face various challenges each day they spend on the road, but they never stop moving, and continue to provide their much-needed services to the community.
Recognizing their efforts, TECNO Mobile celebrates the everyday contributions of Grab PH by giving back to the company's hardworking drivers and delivery riders. The meaningful collaboration between TECNO Mobile and Grab PH is reflective of the positive message that the POVA Neo campaign aims to impart.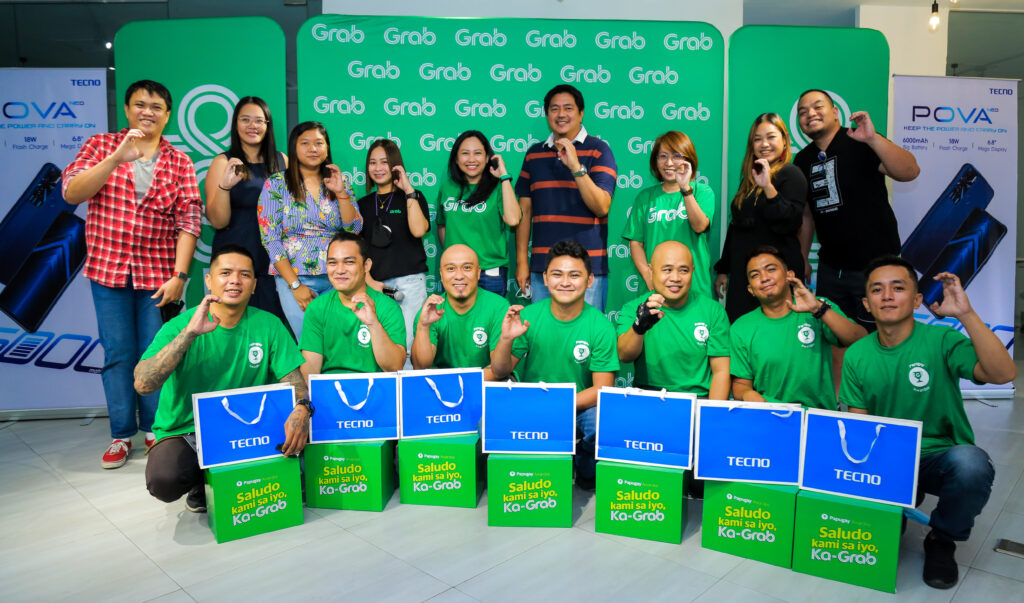 Grab PH's Papugay Awardees received a brand new TECNO Pova Neo smartphone that will help them navigate the busy streets of Metro Manila and power them all day long.  TECNO Mobile PH executives with Grab PH's Papugay Awardees. TECNO Mobile PH and Grab PH's Executives recognize the hard work, dedication, and heroic deeds of Grab PH's Papugay Awardees
A donation handover took place at the Grab PH Headquarters in Metro Manila on April 9, 2022 during Grab PH's Papugay event, which the company mounts each quarter to show appreciation to, and recognize their outstanding drivers. As a beneficiary, Grab PH received 65 units of POVA Neo smartphones. This smartphone's large battery capacity is perfect for the riders and drivers of Grab PH, and will be a big help as they navigate through the city, and provide excellent on-time service. The donation was received by Grab PH's Papugay awardees, Grabfood rider Richard Aguilar, Grab driver Ricky Dalansay, Grab rider Arc Cabuello, and Grabfood rider Michael Sales.
Influencers for the Greater Good
Earlier in April, TECNO Mobile and online influencers Vishnu Isles, Matt Nicolai, Benette Ballester, Xai Smith, Acy De Castro, Edlyn Mea, Banessa Raya, Carol Reyes, Cedrix Eligio, Aldrich Ching, Von Razo, Sharleen Jonson, Blair Madamba, Karen Aquino , banded together to celebrate and recognize the everyday heroes of Malolos, Bulacan. These are individuals who unfailingly provide their services for the betterment of the community, in spite of adversities faced.
At the handover event held on April 5, 2022 at the Malolos City Hall Auditorium, 50 POVA Neo units were donated by TECNO Mobile, to be shared with its beneficiaries from City Health Office and the Office of Senior Citizen Affairs, PNP, Bureau of Fire Protection, Force Multiplier, Social Services, Tricycle Operators and Drivers Association, the City Environment and Natural Resources Office, and local students. The donation was received by the Chief of Staff from the Office of Mayor Gilbert "Bebong" Gatchalian of Malolos City, Bulacan, Atty. Belle Castro.
TECNO Mobile PH Marketing Manager, Mitze Abrio (center-right) and Malolos City Chief of Staff, Atty Belle Castro (center-left), together with content creators Matt Nicolai, Xai Smith, Aldrich Ching, Carol Reyes, Sharleen Jonson, Cedrix Eligio, and Blair Madamba.
TECNO Mobile together with #TeamMatt content creators and Malolos City's everyday heroes!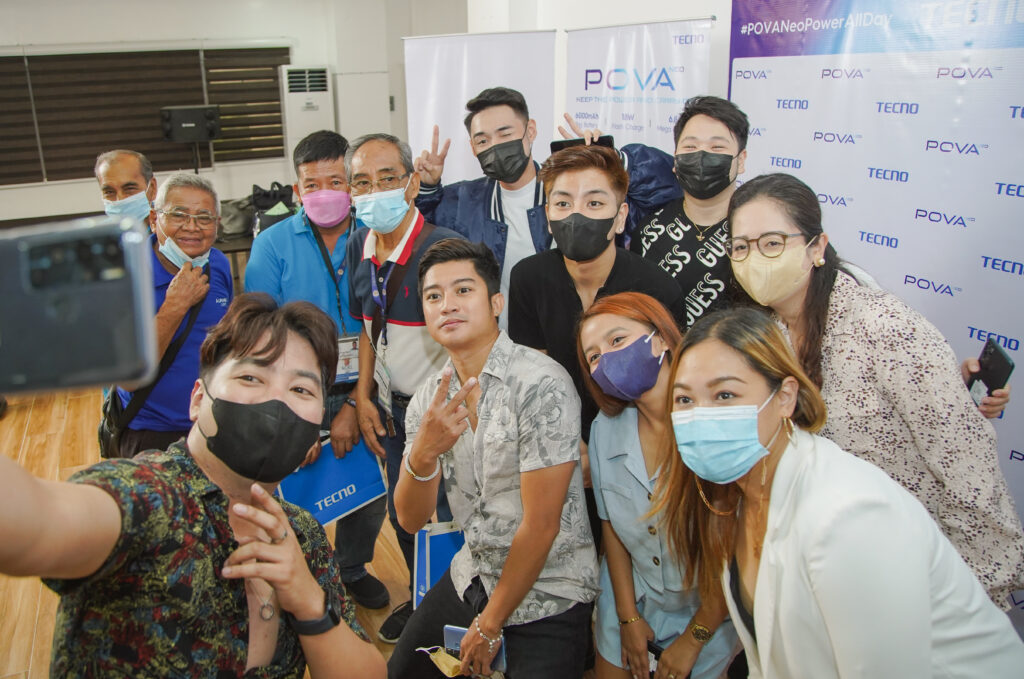 Content creators #TeamMatt and Malolos City's everyday heroes taking a selfie with TECNO's latest smartphone, the Pova Neo.
POVA Neo: The 6000mAh Battery Beast
POVA Neo is loaded with amazing features that give users the power to conquer everyday tasks – An ultimate power supply, large screen, smooth performance, a smart camera, and more. With its 6,000mAh battery and Battery Lab 2.1, POVA Neo has more than enough power to last the entire day. Plus, with 18 watts fast charging, it only takes POVA Neo 35 minutes to store enough power for up to 5 hours of gaming.
Other awesome features of POVA Neo include:
Big screen display for an immersive and smooth full-frame visual experience
HiOS 7.6 with a fresh, easy to use UI interface
ET Engine enhancements that deliver outstanding performance
An extremely fast touch-driven response that's perfect for gaming
Game Space that provides players with a cool interface and fast play
A Smart Camera with 13MP HD quality image system; advanced AI lens capable of 120FPS Slow Motion capture, 1080P Time Lapse, and HDR Photography that fully preserves details in both light and dark areas; Beauty, Body, and Bokeh Beauty modes; AR Animojis and Stickers; and front and rear Panorama Shooting
POVA Neo is available in three colors – Obsidian, Geek Blue, and Powehi Black, and is priced at Php 5,999 for the POVA Neo 4GB+64GB, and Php 6,999 for the 6GB+128GB model.
Join the Scan To Win with POVA Neo Promo, and get the chance to take home exciting prizes! Every purchase of participating TECNO Mobile smartphones from April 1 to 30, 2022 at the TECNO Mobile Concept Store in SM North Edsa, TECNO Mobile kiosks, and partner retail stores nationwide, entitles a customer to play the Spin to Win game. Almost 1 Million Pesos worth of fantastic prizes will be given away to more than 300 winners, including Yamaha Mio Gear 125cc Motorcycles, Samsung 50″ UHD Smart TVs, the latest smartphones , cash and AIoT devices from TECNO Mobile, and cash rewards! For more details, visit http://bit.ly/POVAScanToWin.
#KeepthePowerandCarryOn with TECNO Mobile's #POVANeoPowerAllDay! Stay updated on all the latest promos when you like and follow TECNO Mobile Philippines on Facebook. Visit www.tecno-mobile.com/ph to learn more about your favorite TECNO Mobile smartphones and gadgets.