AirAsia Philippines is welcoming the holiday season with new meals in its in-flight menu. AirAsia Santan, the official in-flight food brand of the airline, now features another international meal in its roster – Thai Basil Chicken with Rice. The Q4 2022 menu of AirAsia also includes vegan-friendly snacks from Oh So Healthy! Crisps and Cravewell Crisps.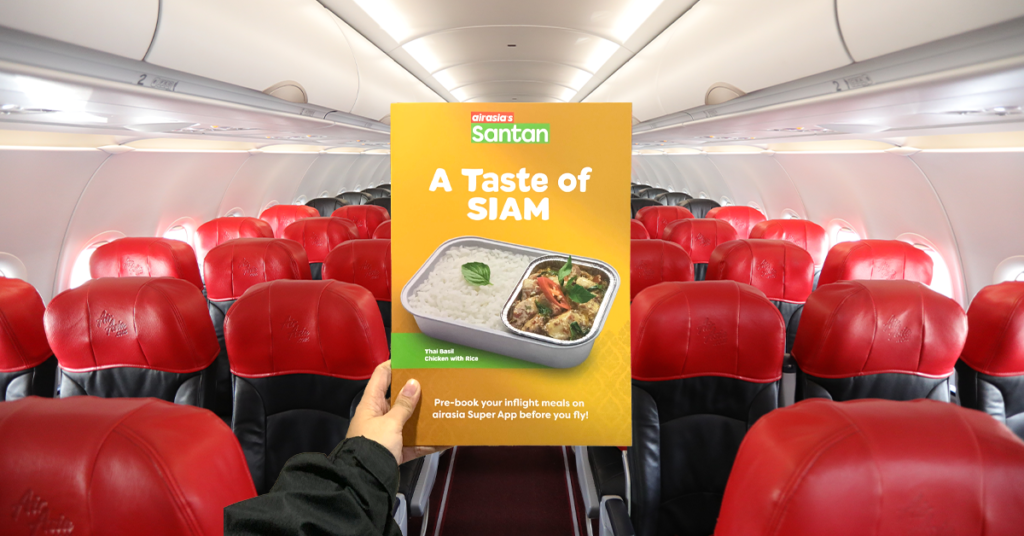 An industry study commissioned by AirAsia Philippines showed that in-flight meals follow baggage allowance as the top flight add-on purchased by Filipino travelers in the new normal. The same group ranked rice meals third in their list of preferred food to consume in-flight, followed by sweets like biscuits.
AirAsia Philippines Chief Executive Officer Ricky Isla shares:
"As an Asean brand, we promise and deliver to our guests a world-class experience across all facets of the flight – and this includes culinary satisfaction. AirAsia Santan takes pride in its multinational flavors from countries like Singapore, Malaysia and the Philippines; and now we bring Thailand representation with the Thai Basil Chicken Rice. Our vegan guests need also not worry for we have added vegan snacks in-flight to ensure they also have good food to munch on as they fly to their destination. We are happy to introduce these new meals as we cater to a very high demand this holiday season."
AirAsia Philippines is adding sweets to its offerings as well, including an AirAsia-exclusive cookie set from homegrown dessert shop Le Sucre Lab. The world's best low-cost airline has also recently teamed up with impact organization HOPE in a Bottle, allowing AirAsia to carry the HOPE purified drinking water on its in-flight menu. 100% of the profit from the in-flight sales will go to the organization's key projects in public school infrastructure.
To enjoy greater savings, guests of AirAsia are encouraged to purchase their add-ons such as in-flight meals, baggage allowance, and insurance before checking out on the airasia Super App. The integrated travel and lifestyle platform offers exclusive promos across various products and services.